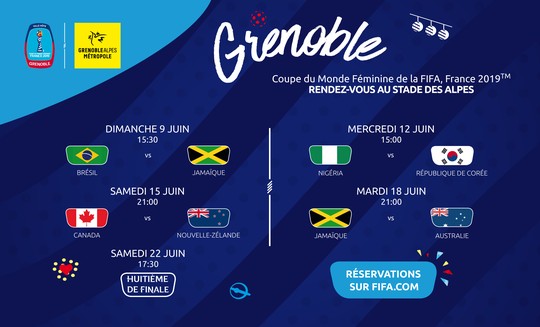 From June 7th to July 7th, France welcomes the football Women World Cup and Grenoble welcomes 5 matches in the stadium 'Stade des Alpes'.
Sunday, June 9th at 3:30pm : Brasil/Jamaica
Wednesday, June 12th, at 3pm : Republic of Korea / Nigeria
Saturday, June 15th, 9pm : Canada / New Zealand
Tuesday, June 18th, 9pm : Jamaica / Australia
June 22nd, 5:30pm : second tour- 8th final
This stadium offers 20 068 sits and is located at the heart of the Paul Mistral Park.
The 24 qualified teams on :
Africa zone : South Africa, Cameroon, Nigeria
Asia Zone : Australia, Japan, Republic of Korea, China, Thailand
Europe Zone : Germany, England, Scotland, Spain, France, Italy, Norway, Netherlands, Sweden
North and central America Zone and the Caribbean : Canada, Jamaica, United States
Oceania Zone : New zealand
South America Zone : Argentina, Brasil, Chile
The FIFA Women's World Cup Village
From June 7th to 23th, the FIFA Women's World Cup Village welcomes you at Anneau de Vitesse - Parc Paul Mistral, free of charge, to watch live transmissions of France's games on a big screen, discover games around football and various animations.
Opening hours of the "FIFA Fan Expérience" village :
Monday, Tuesday, Thursday and Friday : 4:30pm to 11pm
Wednesday : 12am to 11pm
Saturday and Sunday : 10am to 11pm
Guided tours: The historic city center of Grenoble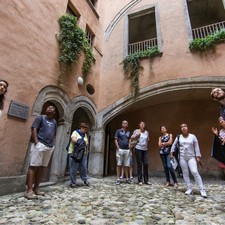 During the FIFA Women's World Cup, visit the city of Grenoble with a guide. Bilingual guided tours of the old city center, in English/Portuguese and French/English, are available.
Good deal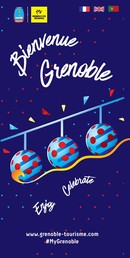 Keep in your pocket the welcome guide that holds all the information needed to accompany you on your visit of Grenoble during the FIFA Women's World Cup, France 2019.