One foot in the Vercors Mountain Range, the other in the Dévoluy mountain range, the Trièves offers you magnificent 360 ° landscapes. It is an authentic eco-territory where nature and culture have always spoken to each other and where many outdoor activities are practiced. The Terre Vivante Ecological Center , located in these mountains, is a place where organic farming is developing more and more every day. Live micro-adventures in Trièves.
The strengths of the Trièves region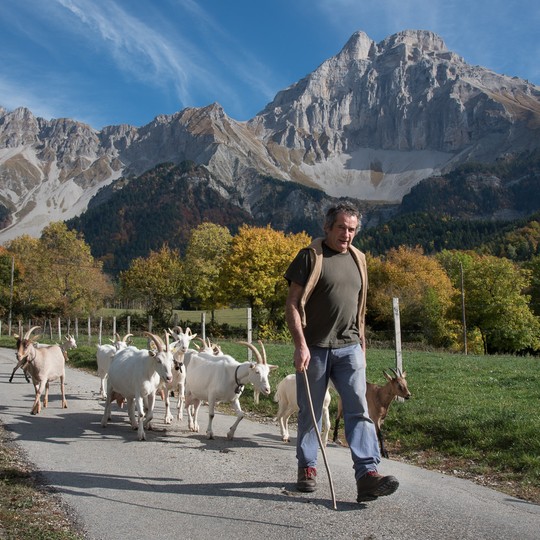 Producteur de la Route des savoir-faire © E.Breteau
The Know-how Route and Ecotourism
Thirty producers, artisans and cultural sites open their doors to visitors to share their know-how and their passion: understand the making of whiskey, beer or wine from Trièves, discover the life of the goat farm, the grafting of fruit trees, go behind the scenes of a theater or understand Giono's love for Trièves ...
The Mont-Aiguille and the East Balcony of the Vercors
Access the emblematic places of Vercors, Mont Aiguille, Grand Veymont, Hauts Plateaux Nature Reserve, Plaine de la Queyrie, Pas de l'Aiguille, Les Deux Soeurs via Chichilianne, Gresse-en-Vercors or the Col de l'Arzelier. A stay in Trièves is to venture out, see the sun rise, sleep in a refuge, observe ibex and raptors, breathe...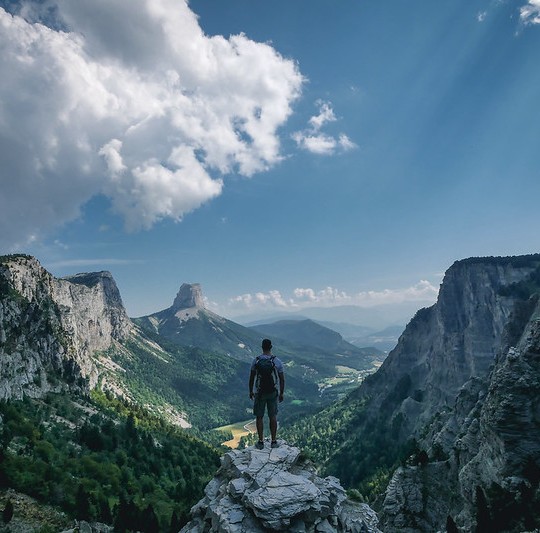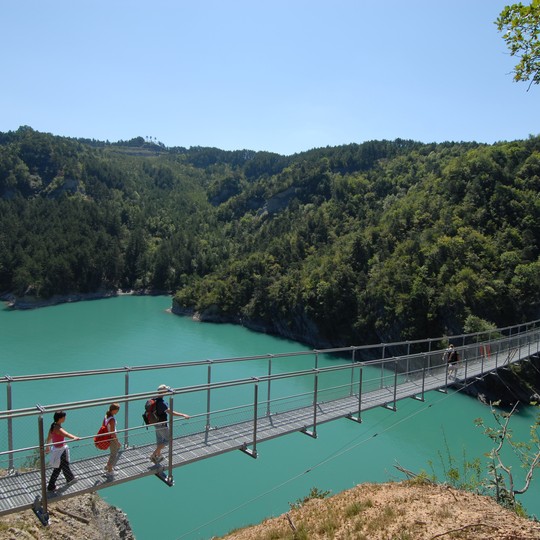 Passerelle himalayenne au dessus du Monteynard © Thiebaut
Lake Monteynard-Avignonet
This lake is famous for its turquoise waters, its regular thermal wind ideal for the practice of windsurfing and kite surfing, its diversified nautical activities and its Himalayan footbridges unique in Europe which make it possible to make a great pedestrian loop as pleasant as it is sensational. La Mira boat also offers cruises.

Le Mont Aiguille © Zanardi O
The Trièves in any season
In summer
27 villages at an average altitude of 700m, 700 km of marked trails over an area of ​​700km². Welcoming accommodation and hosts, often organic local producers, passionate artisans, varied outdoor activities, a rich cultural and entertainment program for young and old, all in clean air and green landscapes: here is the Trièves less than an hour from Grenoble!
Visit the 3 museums: the Gilioli space, the Trièves museum, the Giono space . In 2020, take advantage of the events around the fiftieth anniversary of the death of Jean Giono.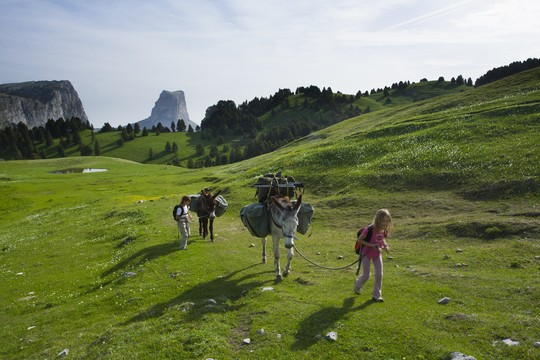 Réserve Naturelle des Hauts Plateaux © Inspiration Vercors
Discover the Know-How Route, its artisans, its producers and its cultural sites, hike, horseback, cycle, discover the car-free products and the offer of micro-adventures !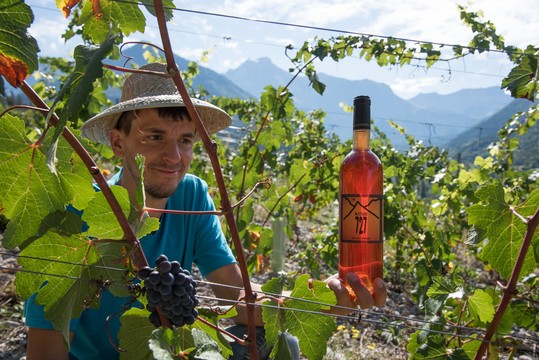 Max Poulat vigneron RSF © E.Breteau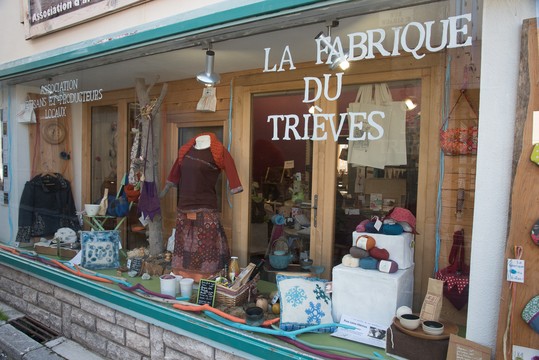 La fabrique du Trièves RSF © E.Breteau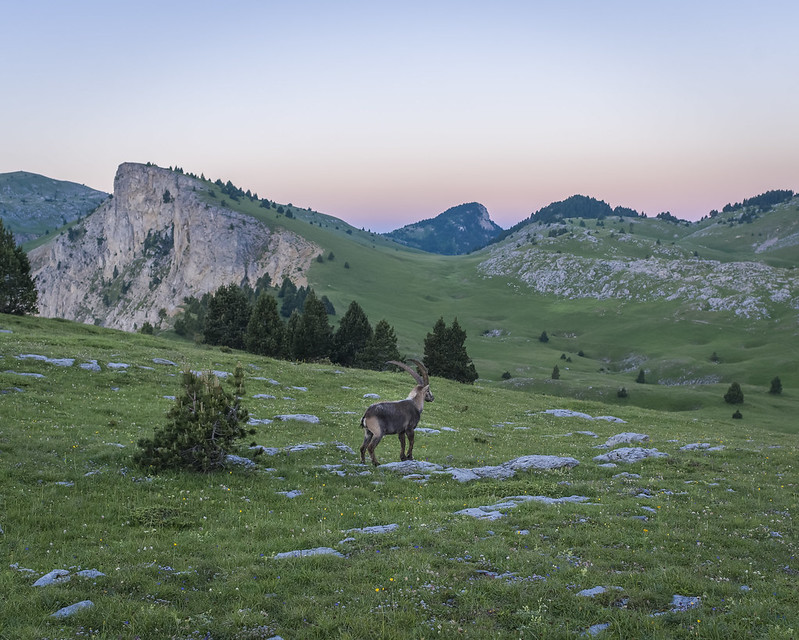 Gresse en Vercors ©OZanardi
In winter
Skiing in Trièves? Of course, it's possible !
Gresse-en-Vercors, ski resort located in the highest village of Vercors, offers a family ski area from 1250m to 1750m, at the foot of the Grand Veymont in magnificent landscapes. Downhill ski slopes: 8 green, 7 blue, 9 red, 3 black, 1 snowpark, 1 snow carpet. Nordic ski slopes over 50 km: 3 green, 1 blue, 3 red, 1 black.
In Chichilianne, at the foot of Mont Aiguille: 40 km of cross-country ski trails including 1 green, 2 blue and 2 red.
In Tréminis, for 18km at the foot of Grand Ferrand: 1 green, 1 blue, 2 red.
Practice snowshoeing, fat biking, all-terrain electric scooters, dog-towed gliding, discover sled dogs, cross-country skiing and ice climbing. There is no shortage of professionals. They will guide you safely. The snow-covered Trièves is very beautiful!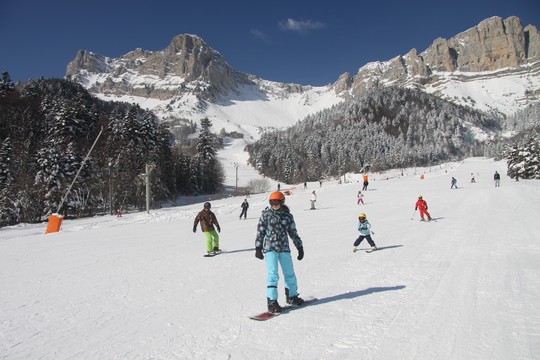 Gresse en Vercors ©OZanardi