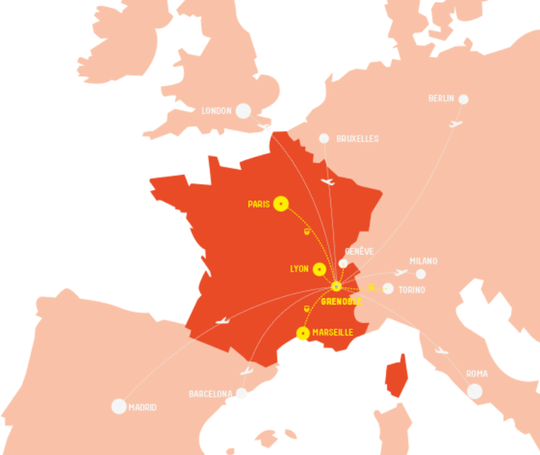 HEART OF THE ALPS
Grenoble is in the eastern part of the Auvergne Rhone-Alps region, in southeastern France, in the Isère department. As such, it sits at the crossroads of northern and southern Europe.
161 000 inhabitants within the city limits
440 000 inhabitants in the greater Grenoble area (49 communes)
The city is surrounded by 3 mountain chains, creating an exceptional setting:
The Chartreuse, Vercors, and Belledonne mountains.
Getting by train, bus and carpooling
Find, compare and book your train, bus and even carpooling option with Blablacar to get to Grenoble thanks to our partner Tictactrip !
You can also choose directly your tickets for :
.
A FEW  DISTANCES
Grenoble - Paris : 574 km
Grenoble - Nice : 343 km
Grenoble - Strasbourg : 535 km
Grenoble - Geneva : 147 km
Grenoble - Barcelona : 631 km
Grenoble - Berlin : 1.257 km
Grenoble - Milan : 438 km
Grenoble - Turin : 236 km