Grenoble's history in a whisper
Put your trainers on to pace Grenoble's paved streets – a bike will do, too. Let the old streets unfold as you walk by from Rue Lafayette to Rue Voltaire up to Isère banks. Old buildings become taller and tighter and windows are higher to give the atmosphere an intimate tone.

Have you noticed the large copper nails planted between the pavement stones? They indicate the foundations of Cularo walls, long before the city became Grenoble. Did you find and decipher the palindrome in Rue Jean-Jacques Rousseau ?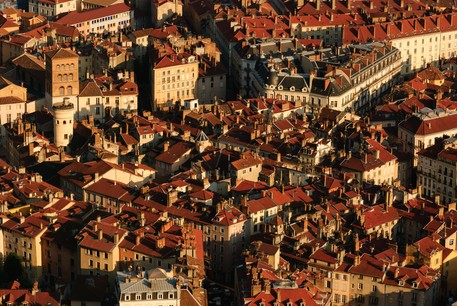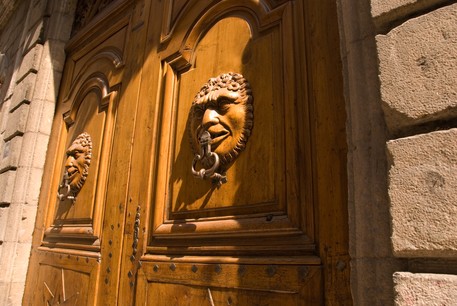 On your way to Bastille and Isère banks, you will come across several pretty paved squares: place de Gordes, place Claveyson, place aux Herbes, home to some relaxed and laid-back restaurants and cafés, it is time to take a delicious break. The only tough question, however: sun or shadow, what restaurant terrace should you choose today ? Plane trees and fountains are the perfect décor to make Grenoble look like an Italian city: dolce vita is all around, in the streets paved with sun and shadow, when morning markets spread in the ancient streets, and during summer festival nights, too – you can feel this vibrant atmosphere on Place Saint André's terraces, under Bastille's watch. Talking about Place Saint André – there we are. Did you expect to be face to face with the Former Parliament's Palace so suddenly ? We'll walk away on tiptoes, while you enjoy the view.
Grenoble Centre : when old streets and shopping pair up
Are you sick and tired of this green, nature everywhere environment in Grenoble ? Don't worry, the city can offer some shopping therapy too !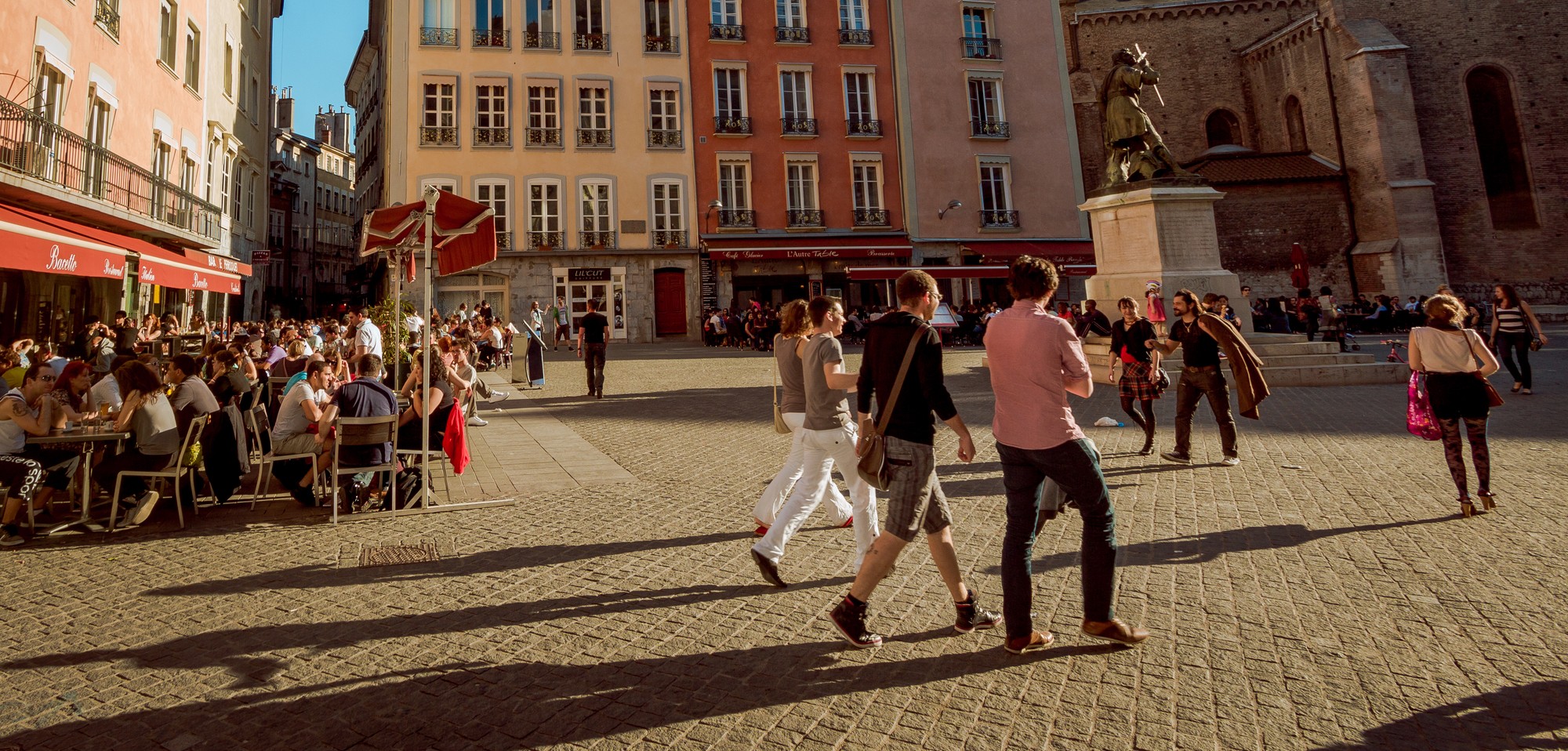 Grenoble centre has everything at hand to satisfy your shopping wishes - whether you are in the mood for fashion, home, gourmet or culture treats! Retailers stretch around main avenues and squares, such as Place Victor Hugo or Grenette, Rue Félix Poulat and neighbouring streets, where old buildings blend in harmony. Paved streets will take you to tiny boutiques in Rue Lafayette, Grand Rue or Rue de Bonne: your shopping wishes are granted !
Saint Laurent : a view across the bridge
 What about Grenoble beyond Isère river ? The city stretches across the river, with the ancient Saint Laurent district built on the right bank – rooted in the river current, looking up at Bastille top.

These aligned, cluttered and narrow houses have formed the city cradle since the 3rd century. The archaeological museum settled down above Saint Oyand crypt, at its genuine location. This tiny district of Grenoble received the nickname of "Little Corato" as it shows visible Latin influences due to Italian migrants from the Puglia region who settled down in Grenoble during 19th and 20th century.
Walk across the Saint Laurent footbridge and there you are, ready to enjoy a nice stroll along Isère river. This very lively district hosts regular flea markets close to various restaurants. Families and friends wander for bargains or just for fun. You will surely run into sports addicts on their way to Bastille top. A nice tip for a unique view: head to Montée Chalemont or Musée Dauphinois terrace (entrance is free!) to overlook the district and its delicious patchwork of red tiled rooftops.
De Bonne district : green, yet lively and stylish !
 Innovation and fresh air pair along naturally in Grenoble – especially when you visit de Bonne area- isn't it splendid? This district was built circling the old 1884 military barracks, and soon became a full part of the city.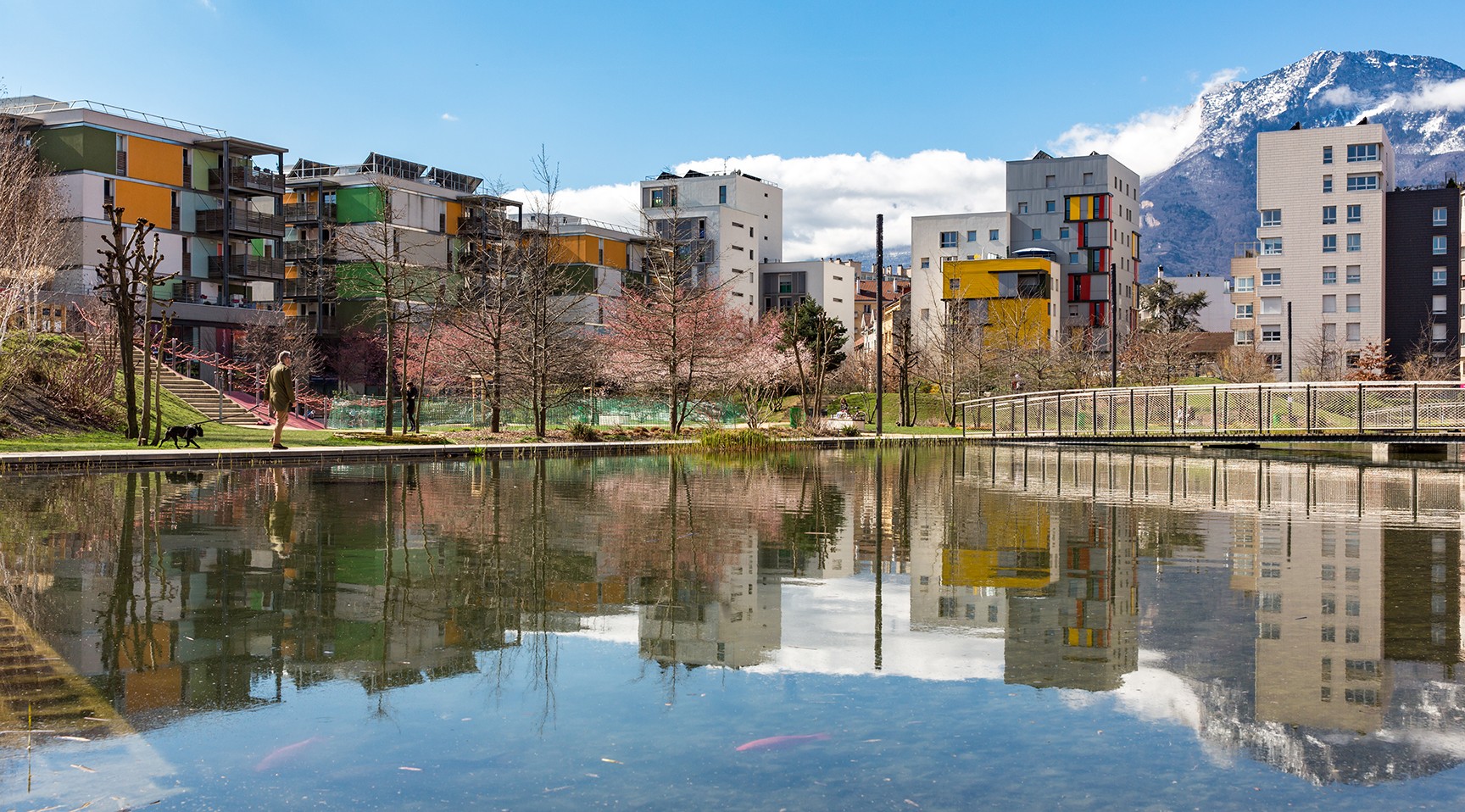 Not only de Bonne district is a rehabilitation tainted with sustainable development, it is actually a lively area where families, students stroll by newly opened boutiques. The Eco district introduces a balance between old walls and newly built buildings, the latter meeting green construction requirements.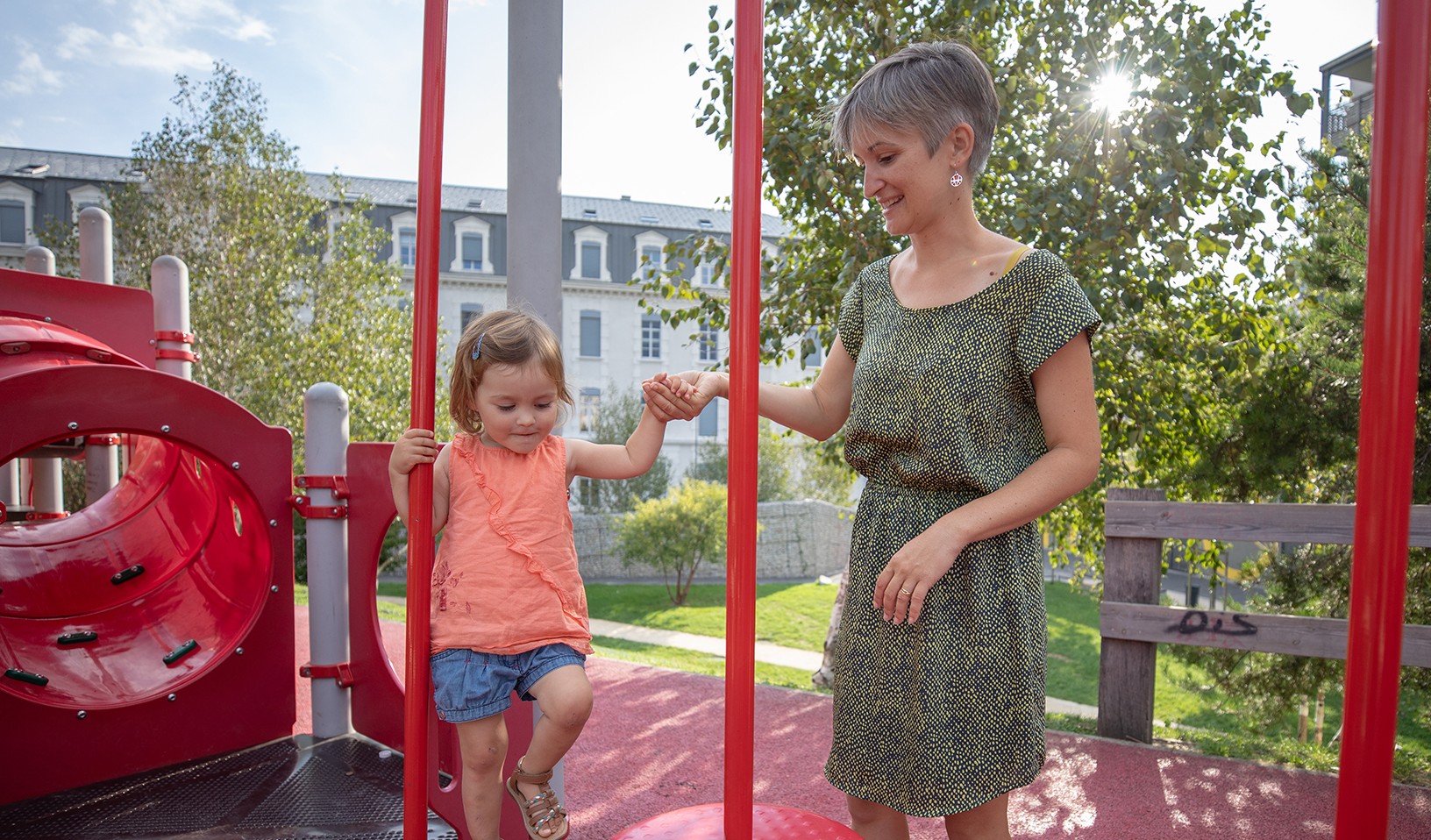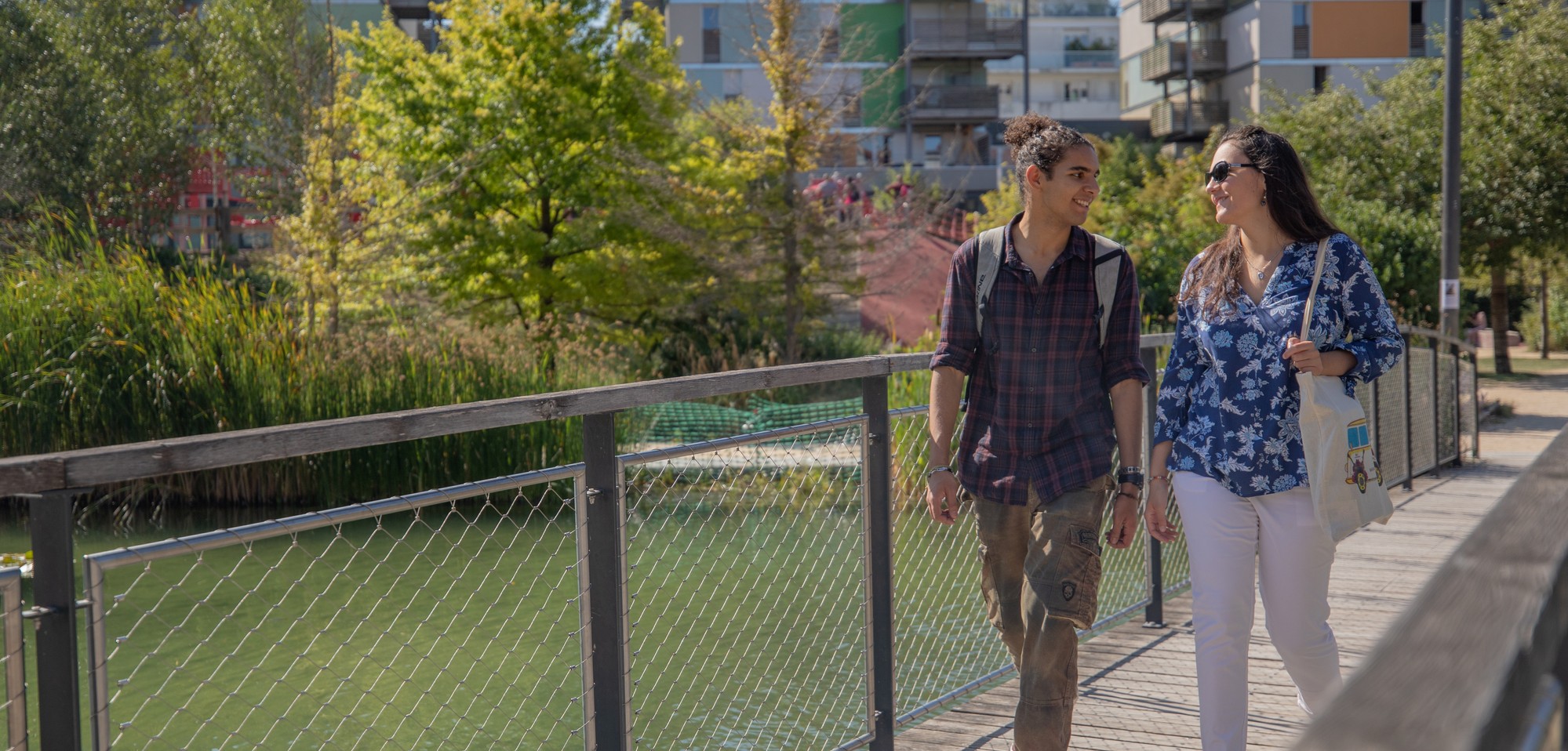 Kids play all around, whether sparkling water on squares or invading the playground in Jardin des Vallons – a tailor made space for them. De Bonne eco district blends in naturally – no quirky allowed, and is very accessible thanks to numerous cycling lanes and public transportation facilities around. A success story that received the National Eco district Prize in 2009 from the French Ministry of Ecology. Living an urban life with sustainable development features is possible … In Grenoble !
Championnet district : happy hype !
 Forget about the muted pastel tones on the nice 19th century facades. Circled by Place Condorcet and Place Championnet, meet Grenoble's most creative and trendy spot !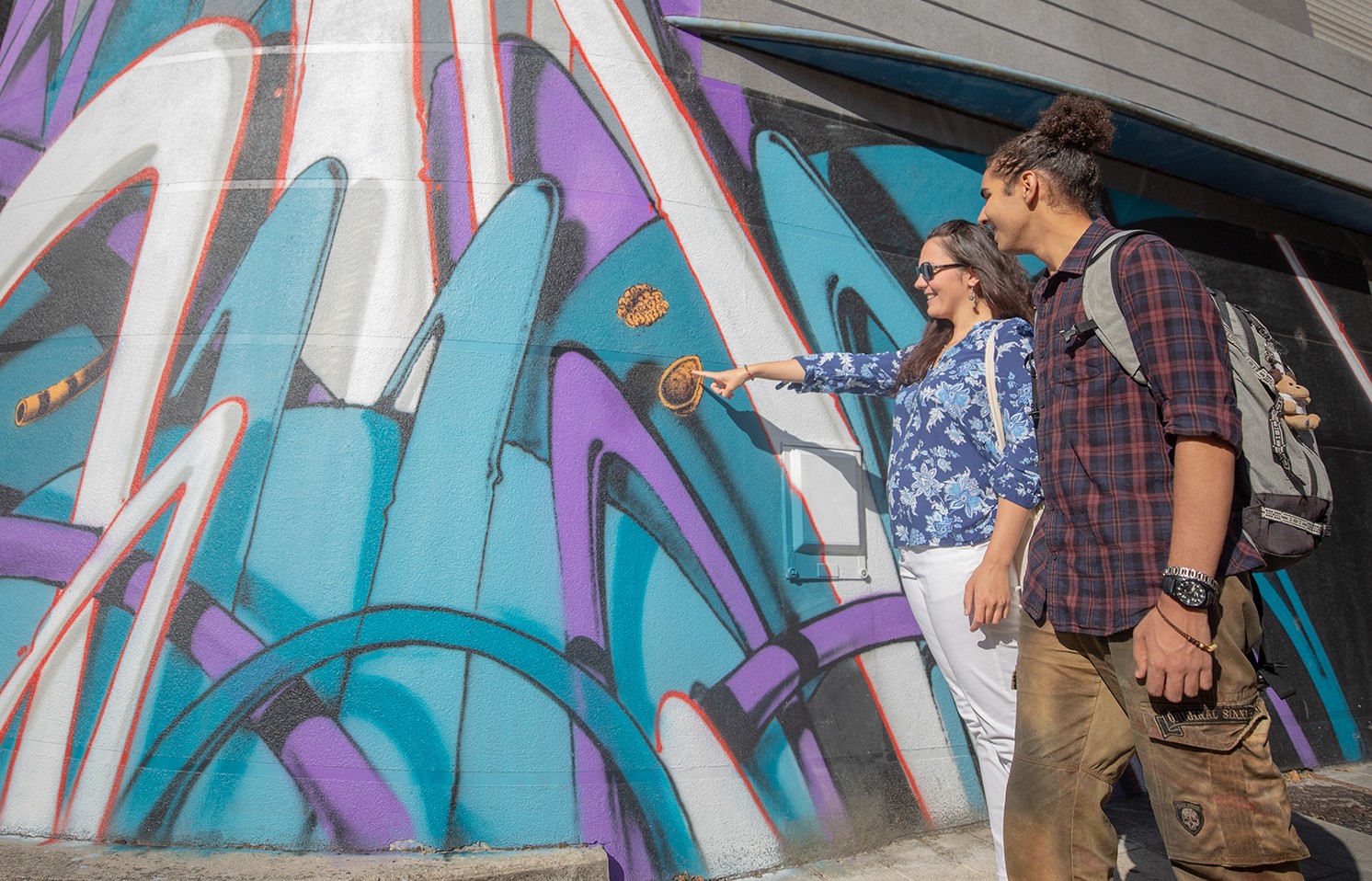 Championnet district is a lively place with a strong creative spirit: trendy boutiques, craftsmen corners, unusual items, galleries, music shops, tattoo shops, and boheme chic lifestyle: you will find them all in a single place. Hungry ? Bistrot style cuisine, the latest trendy restaurants, world cuisine and must-see bars are some not to be missed: la crème de la crème of creative Grenoble is at your feet. Championnet district is like a local version of SoHo, where you can wander or ride by bike, close to Place Victor Hugo and Saint Bruno district. A must-see with a swirl of crazy, Championnet district is our best tip to have a brand new idea about Grenoble.
Bouchayer-Viallet district : swinging ol' factory blocks !
Now is the time for Bouchayer-Viallet district's revival! Formerly an industrial district in the city's outskirts, the refreshed facades unveil a creative cultural life, sunny urban lofts and green offices.
Don't get us wrong: the industrial past still infuses in the area, hence the large buildings but the district is now kicking – to access Bouchayer-Viallet, simply hop on a tram or ride a bike to reach Le Magasin (National Centre for Contemporary Art) or La Belle Electrique, the metropolis' newest performance hall.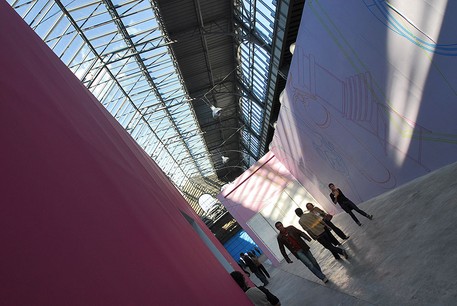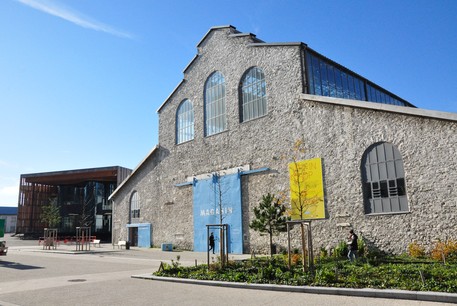 Le Magasin settled down in an amazing Eiffel-style hall with a breathtaking cathedral ceiling. This unique venue hosts temporary exhibitions and prestigious contemporary artists. La Belle Electrique is the latest concert hall in Grenoble, which premiered in early 2015. Well, you may neither be an expert in contemporary arts nor modern music – however it would a shame to miss a show (whether arts or music performance) in such mesmerising venues.
Open your mind, enjoy Grenoble area !
Saint Bruno district: oh-so-lively !
Close to trendy Championnet and green de Bonne districts, Saint Bruno stands out for its lively and busy atmosphere.

Développé autour de l'église éponyme dont les ornements en ciment moulé méritent le détour, à deux pas du Cours Berriat et sa foule de petits commerces, le quartier Saint Bruno héberge chaque jour un marché pittoresque. Véritable point de rencontre des riverains, familles, touristes, étudiants fauchés ou branchés, le grand marché Saint Bruno prend ses aises chaque matin du mardi au dimanche. Il rivalise de bonnes affaires dans une ambiance inimitable. Vous repartirez forcément avec quelque chose : vêtements dégriffés, linge, déco ou produits frais, une escale incontournable pour une découverte d'un Grenoble populaire et authentique !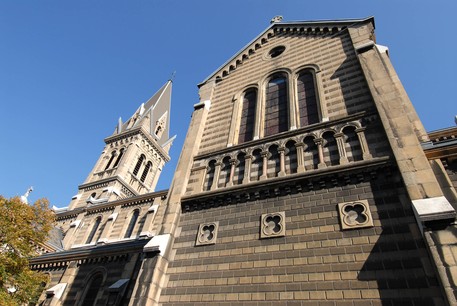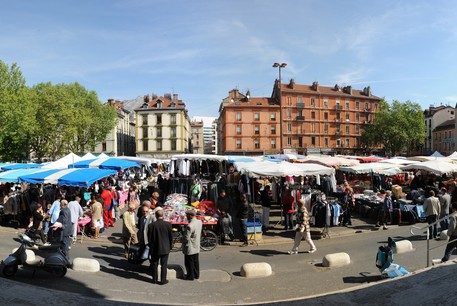 La Villeneuve district : urban utopia unfolded
Today - a multicultural community, which originally was a pioneer project at the end of 1960s, mixing urban and social development altogether.

La Villeneuve is composed of several districts: the emblematic "Arlequin", built between 1970 and 1973 (by AUA architects), and the "Balladins" from 1975. They are joined by a large urban park of 15 hectares, designed by the landscape architect Michel Corajoud.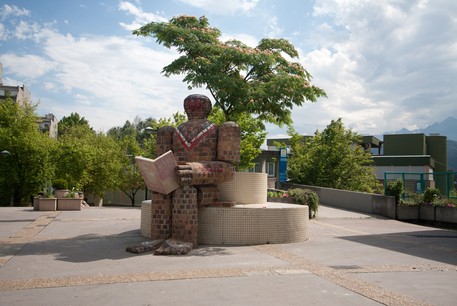 The area is located in the southern suburbs of Grenoble and was designed to embody a large park- access is easy, thanks to a tight public transportation network and biking lanes. La Villeneuve is also surrounded by numerous metropolis-sized venues and sports halls: Polesud ice rink - home to Grenoble Ice hockey team "Les Bruleurs de Loups" – the exhibitions center Alpexpo and Le Summum - the area's largest concert hall. Here is also the mall of Grand'Place. La Villeneuve is currently undergoing heavy rehabilitation works, however district inhabitants will happily tell you about the area's history and its legendary duplex flats, open decks, famous Arlequin coloured housing condominiums and tall Olympic Village towers.