We have tested for you - Métrovélo
Posted by Céline BAUDIN on 04/06/2018 at 15:11
---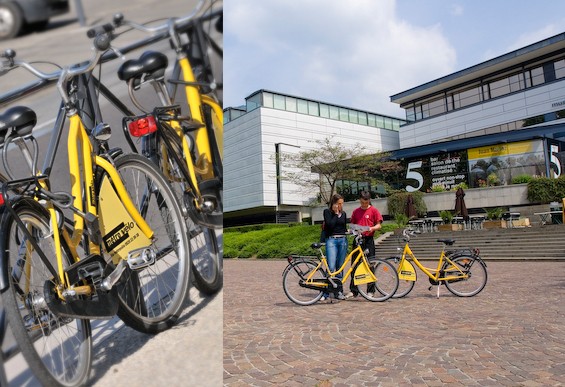 By Manon / Access the whole set of articles
It's Saturday, two friends told me they'd like to discover Grenoble but in a different way. Going through the city, seeing it from our daily different point of view.  I immediately think about the "Métrovélo", a service from the metropolis opens to everyone. We all three leave for a renting. Moving into Grenoble might not be done without a bike. As in the main cities from France, we have the possibility to rent a bike for a day. A very important detail as Grenoble is the flattest city in France.
In Grenoble-Alps-Metropolis, these bikes are yellow, we cannot miss them, and they are everywhere! Where to find them? It's really easy; I went to one of the Métrovélo's agencies. We were at the train station agency but there is also one on the University area.
Métrovélo's agencies
We've got several choices, bikes might be standard, flexible, cargo, and even bikes for children, just have to choose and rent! Several prices are offered to answer everyone's needs (students, that's more than a good deal!)

This is how, while handed our standard's bikes the renter explains us briefly how to make adjustement, hang the diverse antithefts and use our basket. We are so ready for the day! But where to begin with? The renter offers different types of routes that are accessible, how to reach incredible spots and unmissable places of Grenoble… Our "Métrovélo" bikes give us the opportunity to go through the different towns of the metropolis thanks to an extremely complete network of bicycle path. No more excuses to do not go on the 320 kms of arranged paths and no need to be that sporty! (The conurbation Bicycle paths' map: https://www.metromobilite.fr/velo.html)
So let's go! We travel through the bicycle paths from the city center to Meylan, while passing by La Tronche: from here the landscapes are stunning! We are impressed by the beauty of the snowed summits and the hugeness of these mountain ranges… this route choice seems to be for each of us, a success.

NB: bring your ID card and a mean of payment for the security deposit!
More informations http://www.metrovelo.fr/