We've tested for you- « Acrobastille »
Posted by Céline BAUDIN on 09/22/2016 at 11:17
---
By Maëlle / Access the whole set of articles
Did "High ropes course" sound familiar? Here is the same, except that tree branches are replaced by the Bastille mythical stones. A unique sporty outing. I've already been through the Bastille slopes, thanks to the cable car, by foot or while running but never with acrobatics. The "
Acrobastille
" is made for everyone; nevertheless, I've tested it out with two children from 5 and 10 years old

Tight harness, cut to fit helmet, we were so excited to go for our first process, the witches' gallery! From a bunker to another, this is a process made for children (5 y-o min) with footbridges and rope bridges. Step by step, we encounter all types of perched characters: witches, ghosts, vampires… adding a little spice to our day. This first process is pretty easy and ends up with a Tyrolean traverse rope. We're plunging into the Gresivaudan Valley.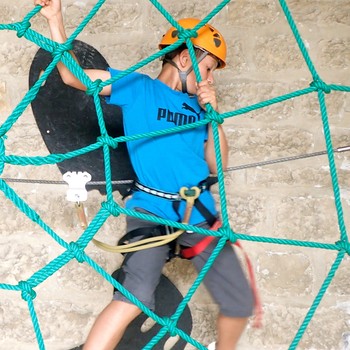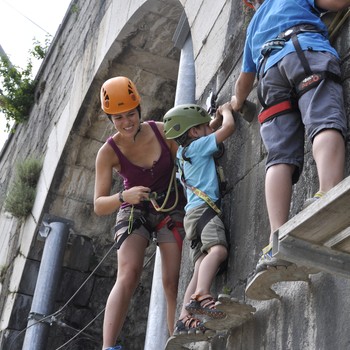 Getting back to the dry land, we decide of the next process: « Mission Bastille »! The monitor comes to explain the content before going into the dark rooms. First room's program: one needs to use the climbing holds on the wall, not to be eaten by crocodiles on the ground. Every time, the first one has to deactivate the system at the end of the room, to walk freely without losing points.  We rush forward the first room, no luck; my little comrade is making a bad move-Never mind, we'll make it up on the next ones. The process is timed, a real rush of adrenaline- it even sounds like the famous French TV show "Fort Boyard".
In another room, we need to move forward when the lights are green and stopped when lights turn red-1, 2, 3, a reworked sun. Not much time left to go out, the music is going faster, and finally we reach the final room!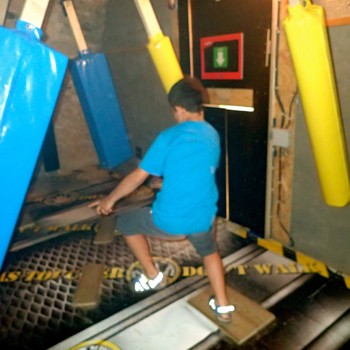 Here, we need to cross the matted objects, being always in the move, this is difficult to avoid them but we need to reach and press the button to open the door and find back natural lighting. My colleague wants to rush forward in first position; I do not insist and let him go. After 2 or 3 knocks, he finally manages to find the button and delivers us. We go out of this labyrinth, exhausted and victorious! We just want one last thing; try out the "speleo box"-galleries of 120meters long-but it's already too late. We keep this idea for next time! The big processes going up on top of the Bastille are not reachable with children under 12 years old; this will be done in a couple of years…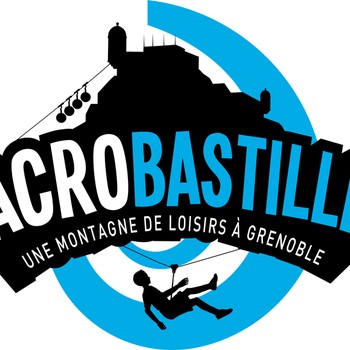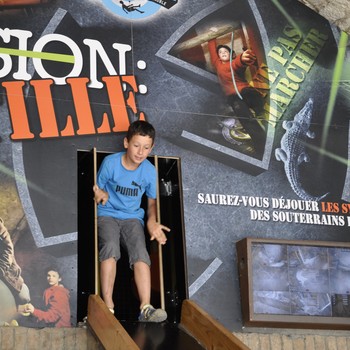 Posted on 08/09/2019 at 12:07

Pourquoi pas un peu de grimpe en cette fin de journée sur l'unique Via Ferrata urbaine de France ?

Posted on 06/22/2022 at 21:32

The Bastille fort overlooks the city of Grenoble and is one of the city's key attractions.