The Bastille will be at the heart of the celebrations in 2022 as a landmark site in Grenoble, the European Green Capital. A symbol of the Alpine capital, the Bastille will spend a few months hosting the key events of this extraordinary year.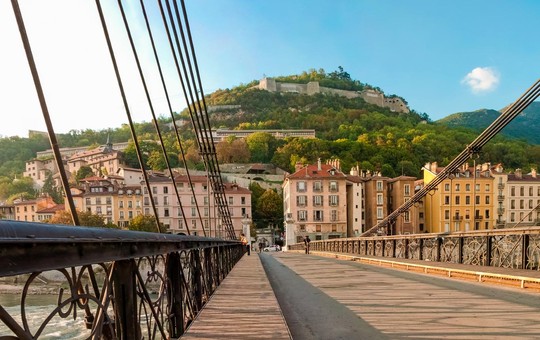 ---
Nature and culture
The Bastille is the ideal place to get a high-up vantage point from which to appreciate the city and its cunning blend of nature and culture. Serving as Grenoble's gateway to the Parc Naturel Régional de Chartreuse, the grounds of the fort are proof of the area's amazing biodiversity with 200 animal species and 500 plant species recorded. With the advantage of a southern exposure, the fort is surrounded by woods and grasslands which serve as a refuge to the Mediterranean species that thrive in our 4-season climate.
If you want to climb higher, you have the option of either walking, cycling, or taking the via ferrata  climbing route. Any way is a good way to reach the incredible panorama offered by the Bastille's terraces. Feel like floating above the city? Take a "bubble"! The Bastille cable car, the first of its kind to be made in France in 1934, will transport you to seventh heaven in just a few spectacular minutes.

A year for biodiversity at the Bastille
With its many assets, the Bastille is the perfect place to celebrate Grenoble's year as European Green Capital. Biodiversity-themed routes and trails have been set up to help visitors discover the natural wealth of this unusual site. Urban hikes and educational walks depart from the city centre and range between the banks of the Isère and the Bastille. At the summit, you can even find a bivouac set up on the slope from April through September, for spending a night on the mountain to nurture awareness and respect for nature.
Several events will be held at the fort, starting with the exhibition "Villes Vivantes", or "Living Cities", which will gather together young European urban planners for the renovation of the Bastille's middle terrace.
Another site, the Cité Universitaire du Rabot, will be ceded by the CROUS (Regional Centre for Student Affairs) in 2024, opening up 18,000 m² for a new project. A residency of guest architects invited to make proposals for the space will take up quarters in 2022. Finally, the programme will also give science its share of the limelight, in particular thanks to the activities planned at the Casemate , a scientific outreach centre for the general public.
So get ready to explore the Bastille, Grenoble's landmark site for 2022, with a whole host of surprises and discoveries in store!